OZsome Accents Fusible Quick Grid
Step 1
Arrange Fabric squares according to assembly guide on pattern. Fuse fabric squares in position with Iron.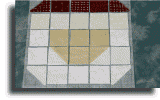 Step 2
Right sides together begin vertical seams by folding grid at gaps between fabric rows and stitch.


Step 3 and 4
Clip seam allowances between rows. Right sides together fold between remaining rows and stitch. Press front and backside.


https://www.carmonsmachinequilting.com/shop/Kits/p/Flying-School-x63593206.htm